About chain mail jewelry
The Company:
The company has sort of faded into existence over the last 10 years. In 1988 in made my first maille vest. By 1992 I have made 4 vests and started on jewelry and other maille items. After making several hundred pieces of jewelry I decided I should start selling my work. Since them I have probably sold a 1000 pieces to local stores, and at medieval recreation and cultural events. This webpage is the next step.

The Staff: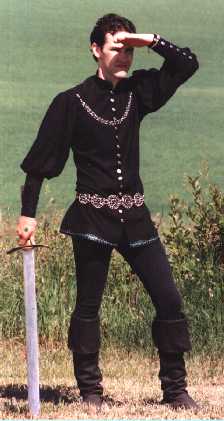 Chain Mail Jewelry is pretty much a one man company. My wife helps out with the retail end and helps with a bit of the jewelry. Let me introduce you to the president, owner, marketing department, webpage designer, manufacturing department, and purchasing department...
Name: Jonathan (Jon) Daniels.
Age: Born November 25th 1975
Education: Graduated from University of Saskatchewan with an Engineering Physics degree (with distinction) in 1998. Email me at through University at jjd128@mail.usask.ca (I assume the University will stop forwarding at some time).
Career :I never have and never plan to make maille full time. Since 3 months prior to graduation I have been employed full time with Sci-Tec Instruments where I am working with the Brewer Ozone Spectrophotometer. Want to check it out: webpage www.sci-tec.com. My email at work at jon.daniels@sci-tec.com. Previous Summer Jobs include 4 Months at TRIUMF (Tri-University Meson Facility) and 8 months at SAL (Saskatchewan Accelerator Laboratory)
SCA: I am very active in a medieval recreation group called the Society for Creative Anachronism. In the SCA I am known as Tarquyn of Sergontium. I have been in the SCA since 1992 and have the following awards and offices:
AoA (Kingdom)
JdL (Kingdom Arts and Science Award) Mostly for my maille and jewelry I hope.
ELA (Baronial Service Award)
Baronial Level Arts and Science Champion 1998
Baronial Level Chatelaine (1995-)(public relations and new member services)
Principality Level Chatelaine (1998-)
You can check out the SCA at: www.sca.org
I am half of the design team for the Baronial Web Page at: www.members.tripod.com\~myrganwood
You can email me on SCA business at tarquyn@bigfoot.com
Environmental policy:
Chain Mail Jewelry is an environmentally responsible company even when not financial beneficial. All packaging (except tape) is made from 100% post consumer wastes (i.e. reused bags and boxes). Manufacturing wastes are minimised and all waste is recycled.